Recently it's been a bit chilly here in Florida.  And no, I'm not complaining, but Sunday we had sun and blue skies-A perfect day. It was moms last day here and Adam had the day off as well. 
She had been wanting to go to the new Chihuly museum in St. Petersburg, so after church we headed over the bridge. 
The Museum was small-but the work beautiful.  We enjoyed lunch next door and then headed to the links for 9 holes of golf.
Mom is pretty good at golf-I not so much.
Afterward we were tired and ready for a night on the couch-but I had this grand idea of using my new Dutch Oven to make grandma's chicken. Finally around 9 pm (after waking Adam up!) we sat down to dinner.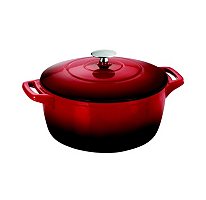 It's huge and has taken up residence in the oven.
It was  great weekend and I'm glad I got to spend some time with my mom.  Adam too-they spent all of Friday together.  we both have a jam packed week-so hopefully the laundry-cleaning-and lack of food in the house can wait…until next Saturday.